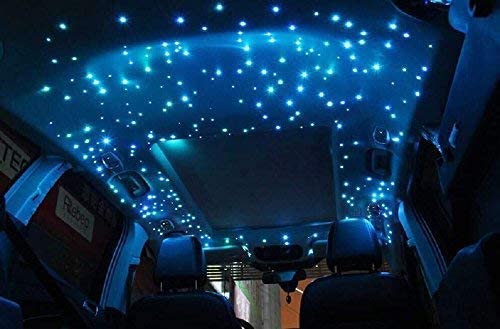 Starry Sky Car Installation Tutorial
by: Grégoire CHOUTEAU -
Start by removing your headliner. It is usually glued. You will first have to dismantle everything that is handle, sun visor, ceiling light, etc. Then take off the headliner little by little to avoid damaging it. Then take it out of the cockpit.

First drill the roof lining to the diameter of the optical fiber (reminder: we provide in each kit optical fiber in diameter 0.75mm) (possibility of drilling with a slightly larger diameter, example a diameter of 1mm for fibers 0 , 75mm). Symmetries must be avoided and the concentration of fibers should be favored in certain places and leave a vacuum in others.

Now insert the fibers inside the holes and let them protrude from the other side of the support by about 1 or 2 cm (visible side of the support).
Then place a drop of translucent neutral silicone (non-visible side of the support) to hold the optical fiber in place.
Repeat the operation until all the optical fibers are used.

Gathers all the fibers in the wheel by turning it to tighten the optical fibers and hold the assembly.
Now screw the fixing loop on the projector.
Place the spotlight in a part of the car above the roof, for example, in the dome light.
Pass the power wire along the roof, then in the cover along the door, the goal being to get it to the level of the

 

cigarette lighter.
Depending on your desire, you can either connect the projector to a 12V to 220V converter, or cut the wire before the power outlet, and connect the wire (+) and the wire (-) to a

 

cigarette lighter extension

 

for example, either with a weld, or with

 

quick connectors/ dominoes (you can find all these accessories in the "Electrical Accessories").
Reassemble the headliner, passenger handles, dome light, sun visors and check that everything is working.
And there you have it, your car has turned into a real Rolls-Royce! You can adjust the installation directly using the remote control supplied in the kit.